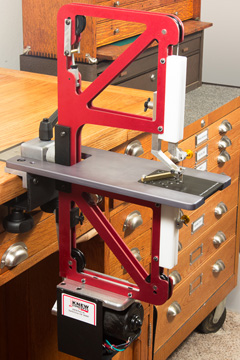 Precision Power Saw ($2,100.00)
Item #125.000
Not just another electric powered saw....look at the features that distinguish it from all others:
PURE VERTICAL MOTION OF THE SAW BLADE. Easily makes cuts that scroll saws can't.
FAIL-SAFE. If the blade breaks, IT INSTANTLY STOPS! The cable-drive cannot function unless the blade is complete. (you cannot push a rope).
2-1/2" STROKE. Uses standard jewelers blades 8/0 to 8 (5-1/8" long). Adjustable stroke for thicker material.
HOLD-DOWN FOOT. Adjustable for material thickness. Reduces blade breakage, as part cannot lift.
CARBIDE BUTTRESSES FOR BLADE. The blade is supported above and below the metal being cut. This prevents "bowing" of the blade, increasing blade life.
TOGGLE LINK TENSIONING OF BLADE. Finger adjustable knurled nut at upper rear of frame.
BLADE TILTS 45 degrees EACH WAY. TABLE STAYS STABLE.
VARIABLE SPEED. Uses a Foredom CC series

*

foot control (not supplied). Speeds: ZERO to 160 STROKES PER MINUTE. The slower speeds allow the blade to dissipate heat, increasing life
CLAMPS TO BENCH WITH TWO HAND-KNOBS. Easily removable when finished.
8" deep throat.
* Requires a Foredom CC series (old style, non TX, or R series) or compatible foot pedal. If you do not already have one, we recommend the Lucas Low-Boy by Lucas Dental. They have great low end control that helps to get the most out of the power saw.