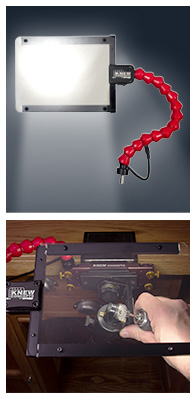 Get Lit!
Designed to mount onto our Work Bench Accessory—the Dovetail Accessory Plate, the LED face shield protects your face from flying crud, while giving you bright, warm white, shadowless light, close up to your work, regardless of if you're using a Bench Pin, a GRS Benchmate, Wax Lathe, or any one of the other great tools that mount onto a standard dovetail plate.
The 6x8 polycarbonate shield has 18 high intensity LED lights in two fully diffused banks for bright, clear light, without shadows, right where you need it, without sacrificing valuable bench space, or interfering with your tools. Rather than requiring you to use one bench pin, one way, this flexible shield lets you use any dovetail tool you want, any way you want.
The electrical cable is designed with a quick disconnect near the mounting point, so that you can run the cable once, then connect it easily whenever you need it, and disconnect it cleanly when you don't.
Except for the polycarbonate shield itself, and the flexible neck, all of the structural components are machined from solid aluminum for maximum durability, right here in Santa Cruz.