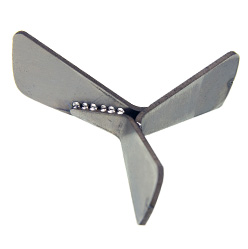 Titanium Trivets let you heat your piece from underneath, without stealing your heat These titanium trivets have several advantages over traditional iron trivets, or iron screens. The first is that titanium doesn't steal heat like iron does, so you can concentrate on heating your piece, not the prop. Secondly, solder and enamel don't stick to titanium, so you don't need to worry about that either.
The reason you want to get the piece up in the air is so that you can heat from underneath, which will let you do delicate things like soldering bezels down without worrying about melting them, which is a real risk if you heat from the top. The reason for this is that the baseplate is usually the heaviest, thickest part of the piece. Which means it takes the most heat to bring it up to the proper temperature for soldering. If you can heat the baseplate from the back, where there are fewer delicate bits, there's less risk to the delicate parts on the front, and your soldering goes easier. You can also heat more aggressively from the back, which will help as well.
Due to the high volume, we had to make some up out of sheet titanium. They will look a little different, but perform the same or better.
TiTanium Trivet: Pack of 1
Price: $20.00 | Item #500.120
TiTanium Trivets: Pack of 3
Price: $60.00 | Item #500.120.2

<! -- advice-->

I found this a useful addition to my soldering set-up.

The trivet is sturdy yet lightweight and large enough to support larger jewellery items.
I used it to support some domed discs whilst I soldered them. I found it made the job much quicker as I was able to get the heat all around the dome and the titanium did not create a heatsink.
Again I was able to support the dome upright against the trivet when adding the bail, which is otherwise a tricky operation.
I also used it successfully when torch enamelling and found that being able to heat easily all around the object being fired gave good results.
~ Janet Royle, UK