Sea-ish IX Bracelet
In 1996, Cynthia Eid took a hydraulic press workshop with Lee Marshall. Having formed metal by hammering since 1974, she had begun to wonder how long her arms and hands would be able to continue, and wondered if the hydraulic press could help extend her health, as well as make it easier to produce forms.
After this taste, she dove into working with the hydraulic press, and sent images to Lee. She also made suggestions for improvements of some Bonny Doon tools. Lee and Cynthia became collaborators as well as friends.
When Cynthia began making blanking dies with the Bonny Doon Precision Saw Guide, she fell in love with the blade-tightening mechanism. It was such a pleasure not to press the saw handle into her chest-bone! Though this saw is very tall, it was so light that she found herself using it for most of her saw work. Visions of amazingly lightweight red saws with an ergonomic blade-tightening system danced in her head.
Telling Lee Marshall that this could be earth-shattering in the jewelry world, which had not seen a major change in saw design in hundreds of years, Cynthia was met with skepticism. Lee said, "Hah! It would cost at least $50, and NOBODY will pay that much for a saw!"
This conversation between Lee and Cynthia was repeated periodically for 3 years. In the meantime, Lee sold the Bonny Doon business to Phil Poirier, and retired. Some people are not meant to be retirees. A conversation thread about sawing on Orchid (an international on-line discussion group for jewelers at www.ganoksin.com) finally lit the tinder that Cynthia had been gathering and throwing at Lee about developing a jewelers' saw.
The first prototype had a solid frame, like the Precision Guide Saw, but with the extra material on top lopped off. Then, other friends/collaborators suggested lightening the saw. The handle also evolved, with Cynthia insisting that the handle needs to be as beautiful as the frame.
When Lee called Cynthia to complain that there was already a company & website with the name New Concepts, Cynthia suggested that Knew Concepts was available, and that the punny title actually fits Lee Marshall's new company.
Cynthia says, "I feel blessed to have Lee Marshall as a friend and colleague. It is fun, interesting, and rewarding to work with Lee Marshall, Brian Meek, and Phil Poirier to develop tools for jewelers and metalsmiths."
Cynthia Eid—Biography


Talisher


Rockpot II
Whether using hand-made mallets and stakes, or the latest hydraulic press tools, Cynthia focuses on exploring the fluidity with which metal can be moved, formed, and joined. Cynthia Eid's metalwork has won awards for creativity and design, been featured in many publications, and been exhibited internationally. With both a BS and MFA in Jewelry and Design, she has worked as a bench jeweler for fine goldsmiths, a model-maker in a gold jewelry factory, and on private commissions. Her work is in museums in the US and UK.
Her recently published book Creative Metal Forming, co-authored with Betty Helen Longhi, has received rave reviews. The book includes over 700 photos covering a huge swath of forming processes, from how to hold and swing a hammer, through synclasting, anticlasting, spiculums, and raising a vessel. 35 detailed exercises explain the basics, as well as advanced nuances for each technique. In his foreword for the book, Michael Good says the authors "have succeeded in assembling the first comprehensive textbook on synclastic and anticlastic forming."
Cynthia Eid's sculptural jewelry and hollowware is primarily made in Argentium Sterling formed through the creative use of hammers and a hydraulic press. Cynthia has been on the development teams of Bonny Doon and Knew Concepts, enjoying working together to make tools that help jewelers and metalsmiths.
Excited about working in sterling silver without the problem of firescale, Cynthia has been working with Argentium Silver since 1999. After meeting Peter Johns (the inventor of Argentium Silver) in 2003, Eid has participated in some of AS's development. Argentium International, Ltd recognizes her as a Pioneer. Currently an independent metalsmith and educator, she teaches weekly classes at Metalwerx in Massachusetts, and workshops and short courses in the US, Canada, Europe, and Australia.
Statement—Cynthia Eid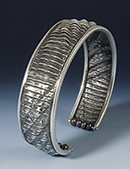 Rolling Brocatelle
The paradox that a "soft", fluid-looking metal form has evolved from flat, stiff rectangles though my force, determination, and tenacity fascinates me. I am entranced by the metal's progressive mutations --- through hammering, persuasion, and struggle --- from a lifeless plane of metal toward an object of vibrancy, unity and fluidity.
The forms of the objects I make have their roots in my gardens, and my meanderings through the woods and along the water's edge. It is difficult for me to take a walk without lining my pockets with rocks, shells, leaves, and twigs. These souvenirs fill the windowsills of my studio. The allusions to nature are intentionally ambiguous, to encourage interactive response and contemplation by the viewer. The similarities to nature occur through my subconscious sense of beauty and methods of moving metal, rather than through conscious study or design. Experimentation, a sense of play, and serendipity play large roles in the designs of my work.